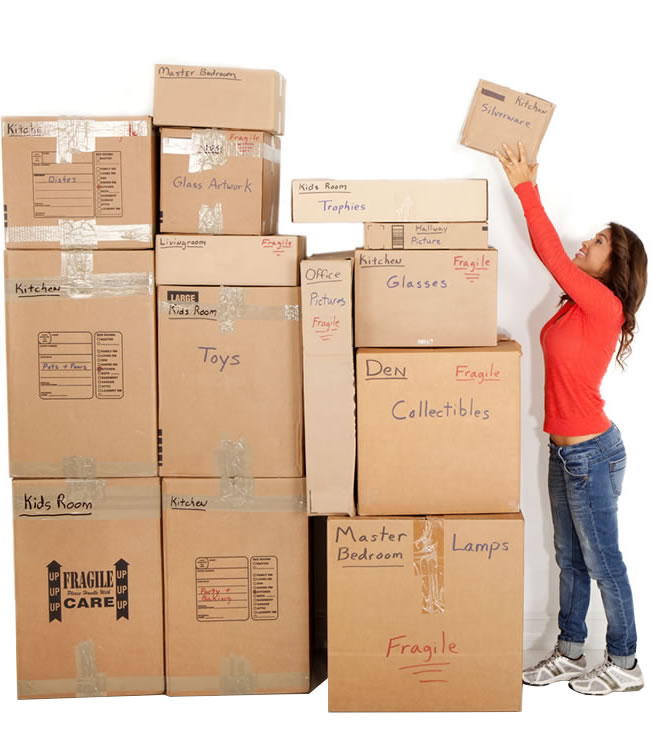 PACKING TIPS
Before packing your items within boxes or crates, make a detailed list of what you're packing away into each box and then name or number the box so you know exactly what has been stored. This will be especially helpful if you don't come back to the items for months or years at a time. Make labels for each box and paste these labels to each side and the top of the box. You might also want to note the estimated replacement value of each item and, if you are packing items which could be broken, place "fragile" stickers on the box. Also, limit the mix of box sizes you use. This will make stacking the boxes easier and help maintain an organized storage unit.
Boxes should be sturdy and strong enough to withstand the weight of boxes being stacked on top of them. It is especially important to ensure that the boxes on the floor (i.e., at the bottom of a stack) are strong and, ideally, do not contain anything fragile. The perfect items for packing in these bottom boxes are books whereas the worst items to include in bottom boxes are glassware and ornaments.
Always be sure to pack heavier items at the bottom of a box and layer lighter items on top. And, whenever possible, try to plan your packing such that items which are likely be accessed/needed the most frequently are the most easily accessible. This will save you time and frustration later.
ORGANIZING YOUR STORAGE UNIT
Plan ahead and be realistic about what will (and won't!) fit within the unit size you have chosen. Moving your possessions into your unit will be easier if you have a general plan in place.
It is always best to place those items which you will need to access least often nearest the back of your unit. Equivalently, it makes sense to place those items which you will need to access most often nearest the front of your unit so you can get at them when you need to. For example, you're more likely to need your winter tires or your bicycle than your box full of high school yearbooks or your wedding dress… so plan accordingly!
Wherever you store your items within your unit however, pack and stack them in such a way that everything can be relatively easily accessed. Make an aisle in your unit which will allow you to access items without having to move everything else out of the way.
Also, you might want to consider dismantling or disassembling items which can be more easily packed in their component pieces (e.g., bedframes, bookshelves, kitchen tables, etc.). Of course, be sure that all bolts and screws are kept in a labeled container and that you know how to put it all back together again!
Additionally, take advantage of the hollow areas within furniture and appliances. For example, that wardrobe can probably hold a couple of boxes and that refrigerator can probably host that DVD collection of yours.